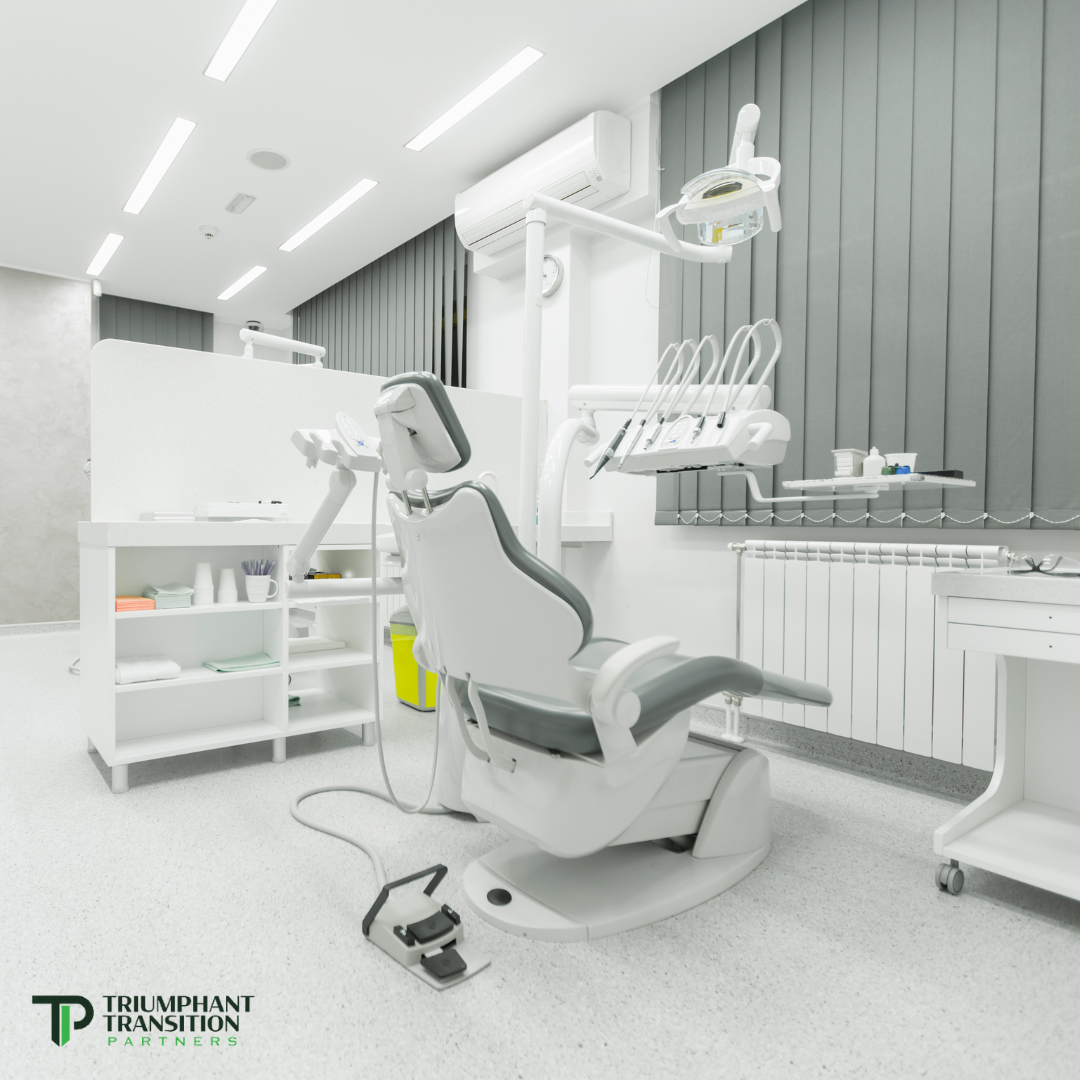 How to Sell Your Dental Practice
If you want to learn how to sell your dental practice, you are in the right place!
There are a million reasons why you might have opened a dental practice and a million reasons why you might be selling. Maybe you're retiring. Maybe you're transitioning to a different passion. Maybe you have an opportunity in a different market. Regardless of your unique reason why you are leaving, one thing is sure; the process can be confusing.
You likely are an expert in all things pertaining to dentistry, patient care, and practice marketing, but the actual sale of a practice can be a whole different beast. Luckily, you have resources to help you navigate the stressors and pitfalls of selling a dental practice. First and foremost, you need to understand what to be on the lookout for when selling and how actually to sell your practice for a profit.
The experts at Triumphant Transition Partners put together their thoughts on selling a dental practice to serve as your thought starter. Every dental practice is different and unique; for a custom consultation, consult the team at Triumphant Transition Partners.
Read on to Learn More About Selling a Dental Practice
Dental Practice Sale Tip 1: Know That One Size Doesn't Fit All
It's important to think about your unique goals and preferences when you decide to sell. No two dental practices are the same, but oftentimes, dentists think of the process as a "set-in-stone" prescriptive process. In our experience, the opposite is true. Your practice's particulars, post-sale exit strategy, local market, and personal goals can all impact the sale process. This can be a neglected portion of the process. We cannot tell you exactly how to evaluate your unique situation but know that the better you understand your situation, the better the sale of your dental practice will go.
Dental Practice Sale Tip 2: Understand What You Are Worth
This might come as a surprise, but most dentists are not experts on evaluating their practice's worth. Most dentists are great at running and growing their practice, but the mechanics of running a successful practice differ from knowing what that practice is worth. In our experience, this is one of the key steps that can often be overlooked. Many dentists want to know if they can find a buyer and also what the legal fees will be. The actual dental practice valuation, in our experience, needs to be done first. It is impossible to successfully field offers or hunt for a buyer when you don't have a baseline for what your practice is worth.
Dental Practice Sale Tip 3: Manage Buyers
The mere fact that an entity or person has expressed interest often doesn't correlate well with their viability as a buyer. In our experience, many dental practices need to separate "tire-kickers" from valid potential buyers. Often, your practice will receive attention from those who might look qualified but really are just investigating. These "buyers" often take up a lot of time without actually ever nearing close. Alternatively, your dental practice might encounter buyers who, on paper, look to be perfect candidates. However, as the deal progresses, it becomes clear that some unforeseen pitfall will disqualify these buyers. Maybe it's the terms of the deal, the buyer's maximum offer, or some other variable.
If you are going to sell your dental practice, it's critical to determine how to evaluate potential buyers. The better you can evaluate and either vet or disqualify a potential dental practice buyer, the sooner you can sell. Moreover, figuring out how to vet buyers will reduce the time and effort invested on your end.
Dental Practice Sale Tip 4: Navigate the Closing Process
Unfortunately, the closing process can often be a little daunting if you are new to the process. The mere receipt of a valid and fair Letter of Intent (LOI) is just the beginning. If you've handled the sale of your practice properly, you should be comparing and contrasting multiple Letters of Intent and leveraging competition between the prospective buyers for maximum value. This stage can require a lot of counteroffers and negotiation, but even a mutually-satisfactory LOI is not the end. From here, you are onto the last stage of the deal, but close can often be the most difficult part of the process.
In our experience, equipping your attorneys with the most well-researched and compelling data is an often-forgotten piece of the deal cycle. The more you understand your EBITDA and earnings details backward and forwards, the better your attorneys will be equipped to advocate on your behalf through the complex and often stressful closing process.
Dental Practice Sale Tip 5: Know Your Role
This can be an overlooked part of the dental practice sale process. It can be customary for the seller to be expected to share some of the responsibilities of managing the practice after closing. If you don't prepare accordingly, the details of your role post-sale might not be properly defined. That can be a pain point if not properly prepared for.
You don't necessarily need to stay on after the sale of your dental practice. Some dentists are perfectly willing to exit the picture, and that's completely ok. However, others want to be involved with their former practice in some facet. There really is no right or wrong answer here; it's just imperative that you know what you would like to do and prepare accordingly in the deal process.
Dental Practice Sale Tip 6: Consider Your Why
While we often see dentists sell their practices when they are ready to retire, there can certainly be other reasons to sell your dental practice. Stress and burnout, for example, are solid reasons to consider selling your practice. Additionally, some dentists are after a higher quality of life. You may choose to sell your practice to a DSO or DPO to maximize the equity in your practice or offset the administrative responsibilities and expenses. Whatever the reason, we can help the process to go smoothly.
Finish the Deal With Triumphant Transition Partners
Selling a dental practice is a lot of work. Many dentists often find that they just don't have the time and expertise to successfully evaluate their practice, manage potential buyers and get the deal across the finish line.
That's where Triumphant Transition Partners enters the picture.
We know that selling your dental practice can be difficult. As a nationwide mergers and acquisitions advisory firm, we represent buyers, sellers, and groups, and we pride ourselves on bringing a relational component to an often transactional industry. Our expertise, network of buyers and sellers, and metrics formula make us a unique choice to guide you through the sale of your dental practice.
Our merger and acquisition experts are here for ….
Initial Discovery
Healthcare-Specific CPA Underwriting
Marketing to Our Pre-Screened & Pre-Qualified Private Buyer Network
Screening Offers
Negotiating Deals
Handling the Close Process
Fill Out the Contact Form to Learn More!